Gemstone Mining
[et_pb_section fb_built="1″ specialty="on" custom_padding_last_edited="on|desktop" parallax_method_1="off" parallax_method_2="off" _builder_version="4.16″ background_image="https://www.crissongoldmine.com/wp-content/uploads/2014/05/DirtyPaper-2.jpg" custom_padding_tablet="50px|0|50px|0″ custom_padding_phone="" transparent_background="off" padding_mobile="off" make_fullwidth="off" use_custom_width="off" width_unit="on" global_colors_info="{}"][et_pb_column type="3_4″ specialty_columns="3″ _builder_version="4.16″ custom_padding="|||" global_colors_info="{}" custom_padding__hover="|||"][et_pb_row_inner admin_label="Row" _builder_version="4.17.4″ custom_padding="34px|||||" global_colors_info="{}"][et_pb_column_inner saved_specialty_column_type="3_4″ _builder_version="4.16″ custom_padding="|||" global_colors_info="{}" custom_padding__hover="|||"][et_pb_text admin_label="Text" _builder_version="4.17.4″ text_font_size="14px" background_size="initial" background_position="top_left" background_repeat="repeat" vertical_offset_tablet="0″ horizontal_offset_tablet="0″ z_index_tablet="0″ text_text_shadow_horizontal_length_tablet="0px" text_text_shadow_vertical_length_tablet="0px" text_text_shadow_blur_strength_tablet="1px" link_text_shadow_horizontal_length_tablet="0px" link_text_shadow_vertical_length_tablet="0px" link_text_shadow_blur_strength_tablet="1px" ul_text_shadow_horizontal_length_tablet="0px" ul_text_shadow_vertical_length_tablet="0px" ul_text_shadow_blur_strength_tablet="1px" ol_text_shadow_horizontal_length_tablet="0px" ol_text_shadow_vertical_length_tablet="0px" ol_text_shadow_blur_strength_tablet="1px" quote_text_shadow_horizontal_length_tablet="0px" quote_text_shadow_vertical_length_tablet="0px" quote_text_shadow_blur_strength_tablet="1px" header_text_shadow_horizontal_length_tablet="0px" header_text_shadow_vertical_length_tablet="0px" header_text_shadow_blur_strength_tablet="1px" header_2_text_shadow_horizontal_length_tablet="0px" header_2_text_shadow_vertical_length_tablet="0px" header_2_text_shadow_blur_strength_tablet="1px" header_3_text_shadow_horizontal_length_tablet="0px" header_3_text_shadow_vertical_length_tablet="0px" header_3_text_shadow_blur_strength_tablet="1px" header_4_text_shadow_horizontal_length_tablet="0px" header_4_text_shadow_vertical_length_tablet="0px" header_4_text_shadow_blur_strength_tablet="1px" header_5_text_shadow_horizontal_length_tablet="0px" header_5_text_shadow_vertical_length_tablet="0px" header_5_text_shadow_blur_strength_tablet="1px" header_6_text_shadow_horizontal_length_tablet="0px" header_6_text_shadow_vertical_length_tablet="0px" header_6_text_shadow_blur_strength_tablet="1px" box_shadow_horizontal_tablet="0px" box_shadow_vertical_tablet="0px" box_shadow_blur_tablet="40px" box_shadow_spread_tablet="0px" use_border_color="off" inline_fonts="Bigshot One" global_colors_info="{}"]
 
                                          GEMSTONE BUCKET PRICES
We give a Free Identification chart to everyone that does our Gemstone Buckets as well as we have Professional instructors that can identify the gemstones you find.
5-gallon bucket non-concentrated is $25.00

Wheel barrel full is $80.00 (LOTS OF FUN WITH LOTS TO GO THROUGH!) 
       Gemstone concentrate: MORE GEMS LESS WORK!
3 of the 5-gallon buckets condensed into a 3 gal. bucket for only $35.00

7 of the 5-gallon buckets condensed into a 5 gal. bucket for only $65.00 
The super Concentrated Bucket is $110.00 
Do not

forget to ask about cutting your stones! We have a professional Lapidarist onsite that can cut the gemstones you find and set them into beautiful jewelry for you! That is a great way to remember your trip to Dahlonega!   
We have had lots of gemstones found that customers have been able to have cut into beautiful pendants, earrings, and rings! Take a look at our page that has pictures of our Customer's finds.
Things you may find… Rubies, Sapphires, Emeralds, Garnets and much more!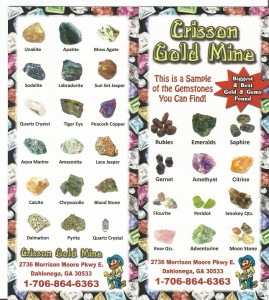 [/et_pb_text][/et_pb_column_inner][/et_pb_row_inner][/et_pb_column][et_pb_column type="1_4″ _builder_version="4.16″ custom_padding="|||" global_colors_info="{}" custom_padding__hover="|||"][et_pb_sidebar orientation="right" area="sidebar-1″ _builder_version="4.17.4″ remove_border="off" global_colors_info="{}"][/et_pb_sidebar][/et_pb_column][/et_pb_section]